FOD Finder™ XF

The Trex FOD Finder™ XF System is a dual-sensor system employing millimeter-wave (MMW) technology designed to detect and identify Foreign Object Debris (FOD) on the runway. From its fixed location adjacent to the designated runway, the Trex FOD Finder™ XF System identifies the location of each detected FOD to within two meters anywhere within the designated monitoring area. The FOD Finder™ XF can function in all-weather environments day or night. Its radar is capable of penetrating fog, rain, snow, haze, and sandstorm conditions. The 24/7 system is designed to be network expandable to cover the entire length of designated high traffic and runway surfaces, providing an updated scan of the area within two minutes.
The primary sensor is a low-powered MMW radar with 100% detection capability in all weather conditions

The secondary sensor is a radar cued visual imaging camera/illuminator for confirmation, identification and documentation of the detected debris
The system can provide operator interface controls and display from multiple locations; such that data and imagery can be shared between the control tower, ground control, and system operators in real time for rapid threat assessment. The XF networked system will alert system operators to potential hazards on airport runways by means of visual and audible alarms in real-time. Detected FOD coordinates can be transferred to a Global Positioning System (GPS)-enabled portable device to assist in the corrective actions process (i.e., retrieval and evacuation). The hardware has been conceived and constructed to run unattended for extended periods of time with little-to-no maintenance enduring extreme environmental conditions, thereby, reducing operational and sustainment costs as well as minimizing downtime.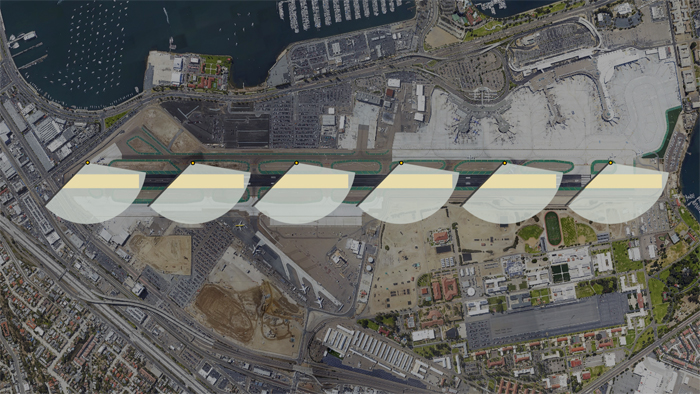 FOD Finder™ XF Network System Simultaneous Scanning of the Runway
The Right Solution to Meet Your Needs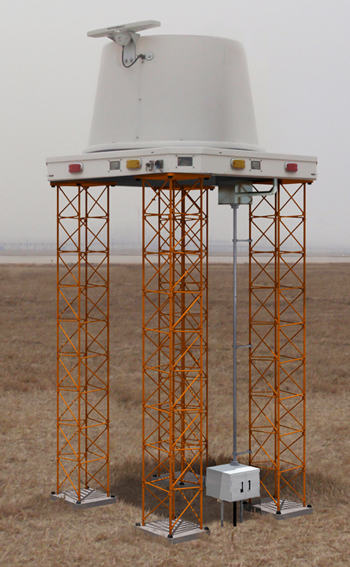 FOD Finder™ is the only certified FOD detection system tested by the FAA with 100% detection capability in all weather conditions (DOT/FAA/AR-11/12). FOD Finder™ has received an FCC waiver to operate the low power radar system on airport locations (FCC 2013-18013).

FOD Finder™ is a revolutionary technology tool used by airports in the combat against the estimated $4 Billion U.S. dollars in damage and loss of aircraft utilization. The detection, interrogation, verification, and cataloging of runway debris is FAA Part 139 and ICAO compliant with database management and tracking.

FOD Finder™ sees through fog, rain, snow, haze, and sandstorm at day and night, where finding and removing hazards is mission critical. Limited system downtime with little to no maintenance required. FOD Finder™ is robust and can operate on a variety of airport surfaces.

Maximizes airport efficiency by reducing runway downtime for inspection, improving the airport logistics and operations. FOD Finder™ XF scans an entire runway in under two minutes and in-between aircraft movements. Sustainment costs of system upkeep are minimal.

Key Benefits:
Provides continuous 24/7 FOD surveillance of runways and taxiways

FOD Finder™ XF is a dual-sensor system that detects FOD and interrogates with visual confirmation using an illuminating camera system at day and night

FOD detection in all weather conditions including: rain, snow, fog, haze, sandstorm, and nighttime conditions

Scanning of entire runway surface within two minutes

Less runway closure time – increased efficiency for aircraft use

Geotagging and logging of FOD and surface discrepancies for retrieval and tracking of FOD accumulation and runway/taxiway deterioration

FOD Finder™ operates without interfering with airport communication, aircraft navigation, or surveillance systems

Airfield digital mapping displays of runways, taxiways, and ramps

Operator console displays in multiple locations; data and imagery is shared between the control tower, ground control, and system operators in real time.

Secure data storage with proprietary locks on access to information

Data download is compatible with most asset management programs

FOD Finder™ XF is durable and dependable with little to no maintenance costs or operational downtime

Easy to operate with intuitive design

Minimal training required