The operation flow chart is given below. A graphic description of the operation is given in figures below with a timeline of the events from the detection of FOD to determination of the threat which leads to dispatch the personnel to remove the FOD.

The operator is alerted automatically when the FOD is detected by Trex FOD Finder XFTM radar and the display of the FOD image is shown on the monitor. If and when becoming necessary, the operator can steer the camera to zoom in the FOD object and further assess the threat. Once the FOD is clearly identified, the ground operation and the control tower can then determine if the runway needs to be closed and a person should be dispatched to remove the FOD.

It should be noted that the time for FOD Finder radar to detect and display the GPS coordinates of the FOD is less than two minutes and within 40 seconds, the camera will home in on the FOD and image will be taken and displayed on the monitor. During the night operation, the camera will be assisted by the built-in illuminator which will be turned on when the FOD is detected. The illuminator can be manually disabled by the operator.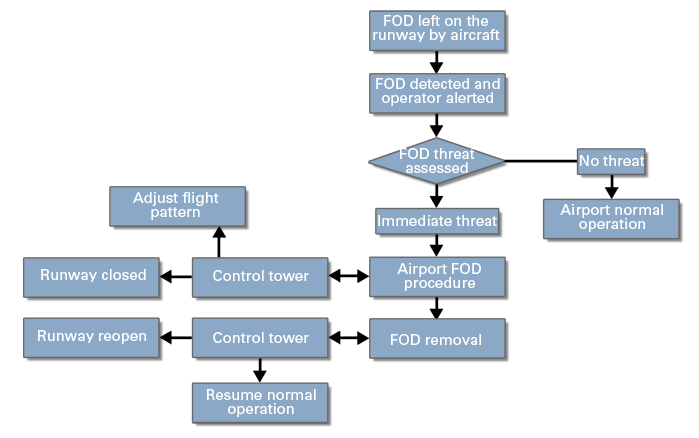 Operation flow chart


Timeline of operation